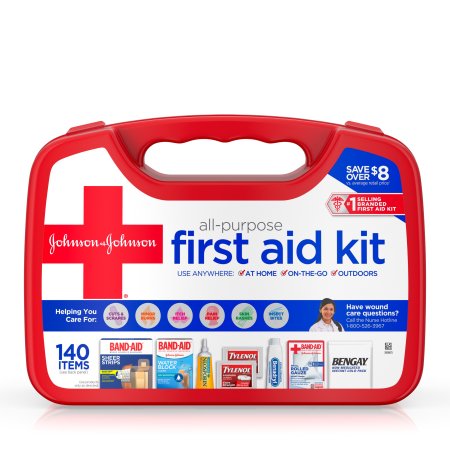 Home First Aid Kits ?>
Home First Aid Kits
The first part is one of the easiest. Purchase or put together a first aid kit.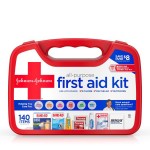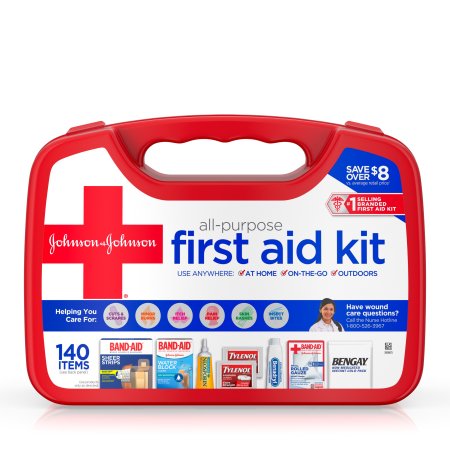 If you don't yet have one, my best recommendation is buying a small but mostly complete kit. It is usually much cheaper than putting one together from scratch. Use the Red Cross first aid kit suggestion list and make sure most if not all of these items are included. The best deal I've found at the time of writing this (October 2017) is The Johnson & Johnson kit at Walmart, (pictured above). For approximately $10, it includes almost everything on the list. The only things I would add to beef this kit up are
-Scissors
-Protective face masks (at least 1 per family member) and I found an 8 pack at 99 cents store.
-Thermometer
-Children's Tylenol or Motrin, if you have kids. (Make sure they have a dispensing syringe, you can usually get your local pharmacy to give one for free)
-A few pairs of new latex gloves. (can also be purchased at the dollar store)
– 3 days worth of any prescription medicine any member of your family needs that doesn't need refrigeration. Labeled, dated and kept in a clean, dry, sealed container. This item is probably the most important, and it needs follow up care. Make it a point to check these once a year to make sure they haven't expired, pick a date you will remember and mark it on your phone or calendar. Something like your birthday or New Year's day is a good idea.
If you are like me and already have a kit but have used some of the items in it like bandages or the antibiotic ointment packets, it might be much more cost effective to just replace the missing items. My first stop is always the dollar store. The tiny little box kits found at most 99 cents stores will usually have all of these so your total cost would be a dollar. Anything else needed can be found there. This time I added a box of Trolls bandaids for my kids because why not

Another favorite place of mine is SOS Products. They have a store in the San Fernando Valley in Southern California and a great website that is often running sales. I found great prices for emergency blankets and foil packets of drinking water that take up much less room that water bottles for things like work or car kits.
Follow my series of posts for other emergency kits and preparedness information to keep your family safe: