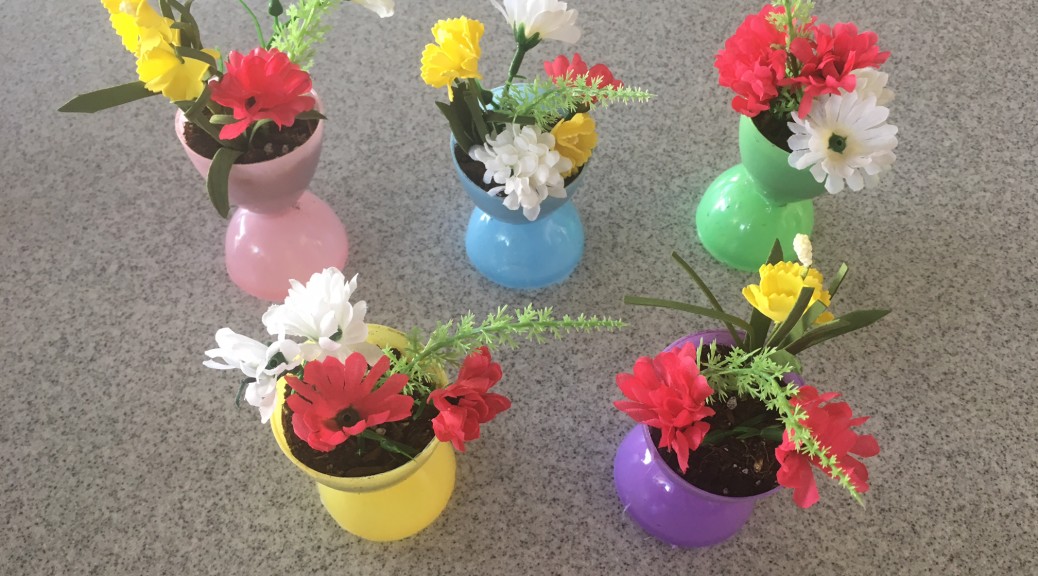 Easter Egg Mini Vases ?>
Easter Egg Mini Vases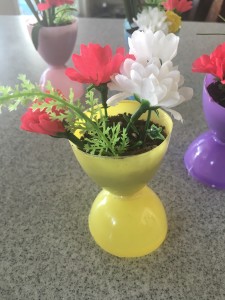 Just in time for Easter, here is a quick little project to add some spring flair to your home. You can do this solo or with the assistance of little hands. It is an adorable way to decorate your table for Easter dinner or to add a little pretty to other places in your home like a bathroom counter, window sill, coffee table or book shelf. The best part of all is that I spent $4 on it. The eggs and flowers came from the 99 Cents Store. The soil and hot glue gun I already had at home. *Note* look for larger pastic eggs if you can, the tiny ones don't hold much soil/plants. You can find a pack of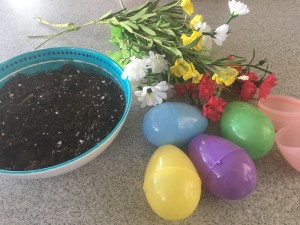 All you have to do is glue top and bottom halves of the eggs together to make the little vase.  I let my 3 year old put the soil in. Big Tip: put a paper towel down, a ton of dirt will end up all over your table. I left about a half inch on top empty just to avoid a mess on the table if they move around.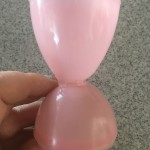 For the flowers, I went with a few bunches of small and colorful fake flowers. If you have the time and green thumb you can grow a few fresh flowers from seeds, or buy a 6 pack of flowers from a garden store. I am horrible with living plants so I tend to avoid them, and the fake flowers will work just fine.
If you go faux like me, trim the flowers to have a short stem (in different sizes from 1 to 3 inches) and leave a few leaves or branches if you can. You or your kiddos can just stick them in the dirt in cute little "arrangements".
If you are brave and go with real plants, just remember to moisten the soil before you put it in the egg, fill it half way, add the plant and scoop the rest of the soil in with a small spoon.
These little cuties are going to be along the center of our dinner table on Sunday.