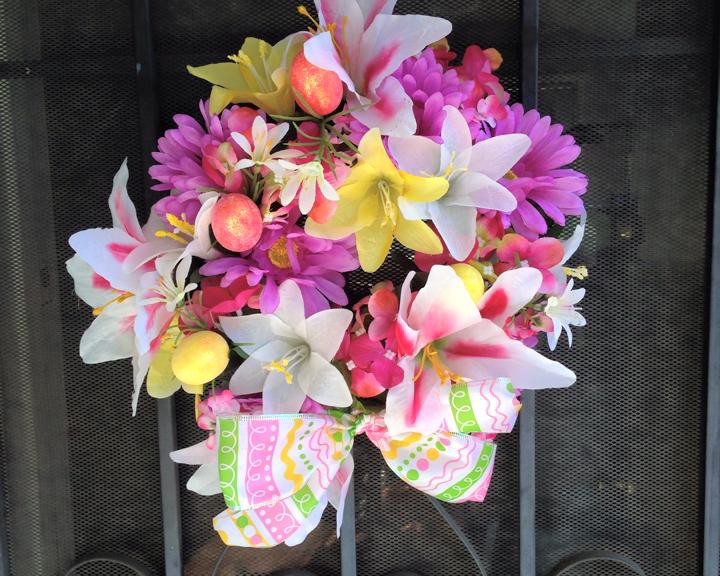 Easter Wreath Craft Idea ?>
Easter Wreath Craft Idea
Occasionally I like to get my Martha on and get my home a little festive for holidays. I've upped my efforts since the kids came around, I want them to have fond memories of decorations and fun activities. We have quite a few things set aside in storage bins in the garage for the major ones. A bin for Halloween and a couple for Christmas. What I don't have much of are things for the smaller but equally joyful holidays.
Being my bargain-loving self, I usually hit up my local dollar stores and have found a few great deals on small accents and decorations, as well as materials to get crafty with. Between the 99 cents store, Dollar Tree, and small mom and pop dollar stores, there are countless little projects you can put together for a low price. Pinterest is our friend.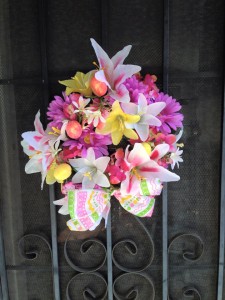 This is a wreath I put together last year before Easter. All the materials were bought at a Dollar Tree for $8 plus tax. If you're like me, that is a DEAL! Add onto that the satisfaction of DIY projects, and you have yourself a winner. It took about 20 minute worth of effort and a good pair of scissors.
The materials were:
One green styrofoam wreath

A roll of easter-ish 2 inch thick ribbon

A pack of little colorful Easter eggs on sticks

5 bunches of plastic spring flowers and green filler lea

ves
From home I used the scissors and a foot or so of pliable wire to loop through the wreath to hang on our front door. To put it together I cut all the flower and leaf bunches to a 1-2 inch stem, this takes a little elbow grease if you use regular scissors, or you can just be way smarter than I was and use wire cutters. I stuck the foliage in first, spread out the flowers evenly around, and finished it up with the little eggs on skewers (also trimmed down). Voila!
This little project can be applied to most holidays, and the stores usually stock up flowers and decorations seasonally. To store it for the next year, I keep it in a big plastic bag to keep out dust and spiders. Happy Easter and Happy Crafting my friends!