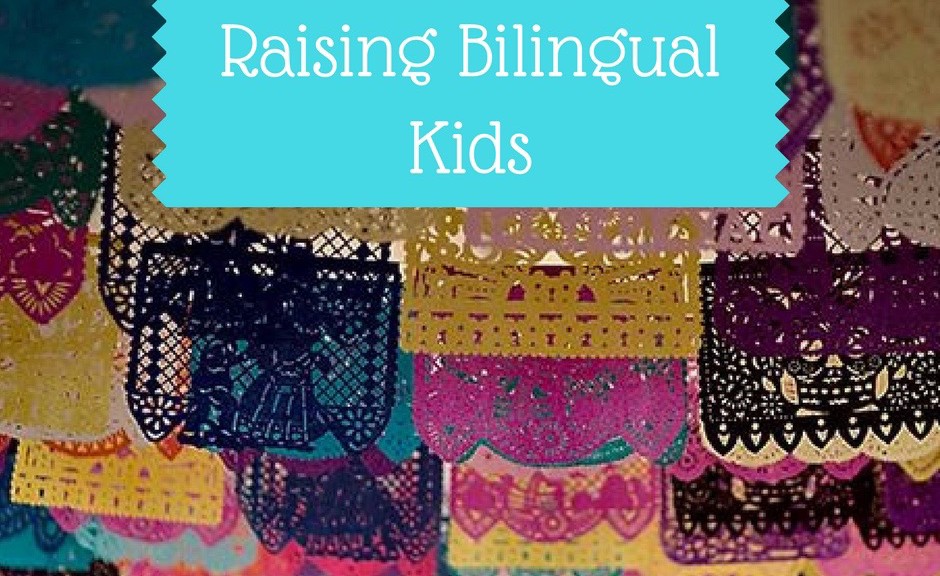 Raising Bilingual Kids ?>
Raising Bilingual Kids
My son sits in his high chair and follows my every move with his eyes as I'm walking back and forth getting their lunch ready every day. He watches like a hawk to make sure he too, will get a plate like the one his sister just grabbed from the counter. He looks on as she gets her own cup from a low drawer and fills it up with water from the fridge door dispenser. I place his plastic Paw Patrol  plate in front of him and he looks up and yells, "Mama…. ABBA". I know that's my cue and go over to the same drawer, get his sippy cup with the really secure lid, and fill it up with water. Can't forget his abba, aka agua.
Before my first child was born, I had this visual of raising perfectly bilingual little angels who could hold a conversation in both languages like tiny diplomats. Speaking english and spanish fluently has been such an amazing part of my life, in school, professionally and on a personal level. Of course my kids would be fluent in spanish too, why wouldn't they be? I started out with all intentions of splitting everything 50/50 between both languages. My daughter would ask for both leche and milk, she would ask for sopa (soup) for lunch, and say both I love you and te amo. Then she started learning and speaking more words, and it became more 75% english, 25% spanish. Then she started speaking in sentences, and the spanish never moved much past those first few words. In retrospect, I set this up the way it is. My hubs and I speak only english to each other, due mostly to the fact that he is not hispanic, although he does speak and understand a lot of spanish. My family started speaking english to her as well, she started watching almost all of her cartoons in english. Dora the explorer can only teach so much.
My son, who is just starting to talk and learn new words, is heading in the same direction. But this is not a "why my kids didn't learn spanish" kind of sob story. This is about what I'm gonna do to make sure that they do. It really is never too late to learn a valuable skill, and although it's true that the earlier you start the easier it will probably be, I'm not ready to throw in the towel with my 3 and 1 year olds.
Research has shown that the best window for a child to learn a new language is between 3 and puberty. Kids have been found to have developed 50% of their ability to learn by the age of 4, and 80 % by the age of 8. Why are these such key stages in their development for learning and expanding their knowledge? Because no matter what it is they are learning, kids are always learning something at this stage. They really are like little sponges, absorbing everything in their environment from behavior, to speech patterns, language, and yes, even curse words.
Growing up, I had a unique advantage that my kids don't. My family moved to México for a few years during exactly this stage, so I was able to become fully fluent in speech and writing before moving back to Los Angeles. Once here, I was fully immersed in english speaking classrooms, tv shows and with friends. The transition was quick and painless because it was necessary. My kids don't 'have' to speak spanish anywhere. That is my first step: to designate a time/place where the only language spoken is spanish. Grandma's house is first. A new rule came into play, Grammy and Papa only speak spanish to them. My parents are fully on board and agree on the value of growing up bilingual.
Step two is setting up a time and place where I practice it with them myself. I decided that lunch time and the hour or so we play afterwards will be in spanish on weekdays. I am committing myself to working out subtle ways to add more mexican culture and language into our day. It will be anything from having a dance party to music by latin artists, to reading books (like this one ¿Eres Mi Mama?) and watching their favorite shows in spanish (which as it turns out, are already on Netflix). Check out the "mom Tips" board on my blog for a few other ideas on activities for teaching kids a second language.
In the end, my hope is not only that they are able to speak to earn an extra bonus or kudos for putting 'bilingual' on their resume (although that will be nice), but that they grow up appreciating the culture that I am so proud of and is such a huge part of our family. I often consider how many traditions are going to phase out and how much of our family's history will be forgotten unless we take the steps to preserve them. So my nińos and I will try our best to work a little bit of México into our lives while proudly living in the United States.