Spicy Red Salsa Recipe ?>
Spicy Red Salsa Recipe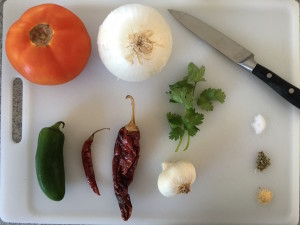 I'm letting you all in on my secret weapon. This salsa is delicious. I'm not gonna say much else because it's gonna speak for itself. My mom gave me this recipe a long time ago and it has become one of my favorite salsa's to always have on hand at home and my husband's favorite. Even a few people at my work know it well and request it for potlucks.
This salsa can get very spicy so I am listing the ingredients for the normal hot version first and a medium/mild variation in parenthesis.
Ingredients:
2 dried california peppers
5 dried 'chile de arbol' pepperes (3 for mild)
1 jalapeno pepper (½ and seeded for mild)
2 garlic cloves
1 medium tomato
⅓ white onion
5 tablespoons finely chopped cilantro
½ tsp salt
½ tsp garlic powder
1 tsp ground dry oregano
1 small can of tomato paste- 6 oz.
1 cup water
First blend water, garlic and dry chilis until they are very fine and almost dissolved in the water. Add in the tomato, jalapeno and onion chopped in roughly 1 inch pieces and pulse for 203 seconds at a time until they become chunky small pieces.
Pour into container and add the rest of the ingredients, mix well.
This salsa keeps well in the refrigerator for up to 4-5 days.