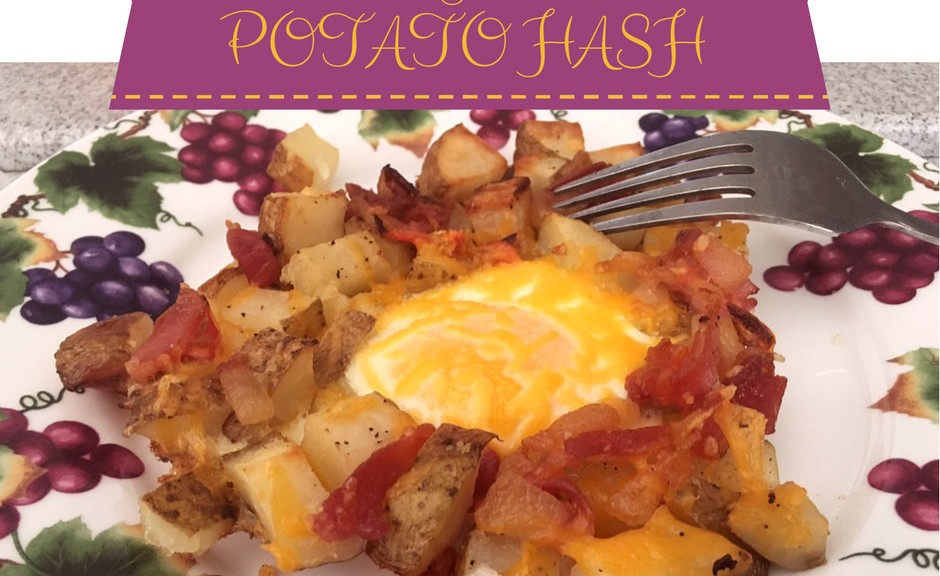 Cheesy Bacon Potato Hash Recipe ?>
Cheesy Bacon Potato Hash Recipe
The perfect breakfast or brunch for a lazy weekend morning. I saw a recipe by Nigela Lawson in a magazine at work recently but forgot to snap a pic, and coulnd't find it online afterwards. This is my winging it version with our favorite breakfast ingredients. It may take a while to bake, but this is so delicious it will be worth it, seriously. You can cut morning prep time by cutting up the potatoes and other toppings the night before. Keep the cut up potatoes refrigerated in a bowl full of water to prevent them from browning. 
Pre heat oven to 400 and line a baking sheet with foil. Spray sheet with a light layer of cooking spray or oil to make sure the potatoes don't stick.
Cut one small potato per person into small pieces, (½-1 inch squares)
Mix with 2 tbsp melted butter and spread the potatoes on the baking sheet, then season with salt, pepper and garlic powder.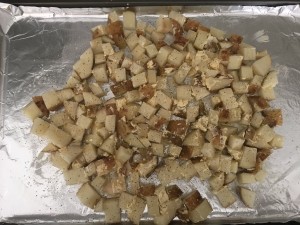 Bake for 15 minutes
Chop up one slice of bacon per person and whatever other toppings you want to add. I went with onion and tomato. (extra onion for Hubby's side and tomato on mine). Add these on top of the potatoes and continue to bake for another 15 minutes, or until the bacon looks done.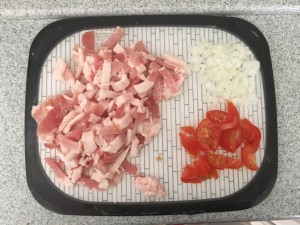 Use a spoon to make a little opening in the potatoes for each egg (tip: shift them around so there's no gap, the potatoes are a barrier to keep the egg whites from running all over the baking sheet). Bake for an additional 5-7 minutes depending on how well done you like the eggs.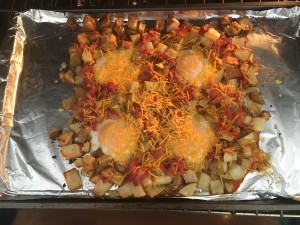 Sprinkle shredded cheddar cheese on top and enjoy the gooey bacony goodness