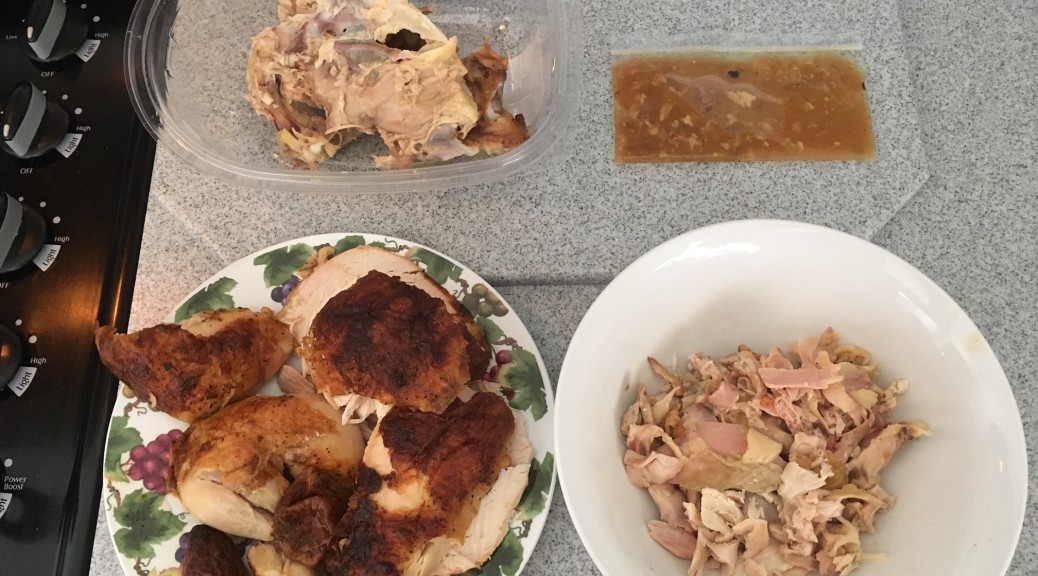 How To Get The Most Out of A Rotisserie Chicken ?>
How To Get The Most Out of A Rotisserie Chicken
As a busy working mama, I've been trying to find the easiest ways to feed my family delicious and healthy food, while working with time and budget restraints. We bought our first house this year and have been working towards building our savings back up, so any little tricks to save money help. One of my usual things to get at Sam's club is the Rotisserie Chicken (same as the Costco one). This is one of the best deals big box stores have. For $4.99 you get a fully cooked 2.5 pound chicken and save yourself a lot of time and money it would take to prepare one yourself. Lately I've been browsing through Pinterest and found a few good tips on how to make the most out of it. For my family of 2 adults and 2 toddlers, I can get one lunch and two dinners out of each chicken, plus some extras.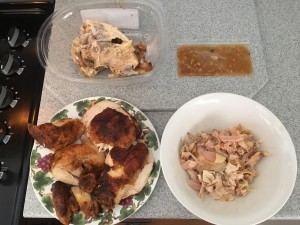 The first step is carving out the legs, wings and a thick top layer of the breast of the chicken and setting them aside for dinner that night. I thinly slice the remaining part of the breast down to the bone and use this for lunch.
Then I pick off all the remaining chicken off the bones, shred it and freeze or refrigerate in a zip lock bag for another day.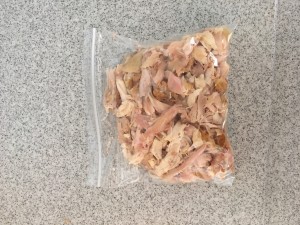 The bones get thrown into a pot, covered with water and brought to a boil with carrots, onion, and garlic. I lower it to simmer for about 2 hours, cool it, strain, and freeze this in zip lock bags too, about a cup in each.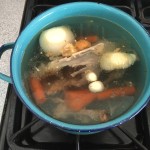 The last part is collecting the drippings into a container or baggie. I use these to make chicken gravy by heating them up on the stove in a small pot and adding a mix of water and corn starch (about 1/2 cup of water and 1 tbsp cornstarch), then heating and stirring for an additional minute until it thickens. If you don't need to make the gravy that same day you can freeze the baggie. 
The Meals:
Our first meal out of all this was lunch. I used the thin sliced breast pieces to make sandwiches. We added a slice of ham, toasted bread, lettuce, tomato and mayo/mustard.
Meal #2 was the carved chicken I set aside for dinner that evening. I made gravy out of the drippings and poured it over mashed potatoes. 
Meal #3 was a few days later. I thawed out the frozen chicken and made taquitos. There a ton of different ways to use the shredded chicken: tacos, burritos, soups, sandwiches, stir fried rice, salad, plus many more.
And now I have a few cups of stock in the freezer that I can use for some of my favorite recipes like this one for Crockpot Chicken and Dumplings