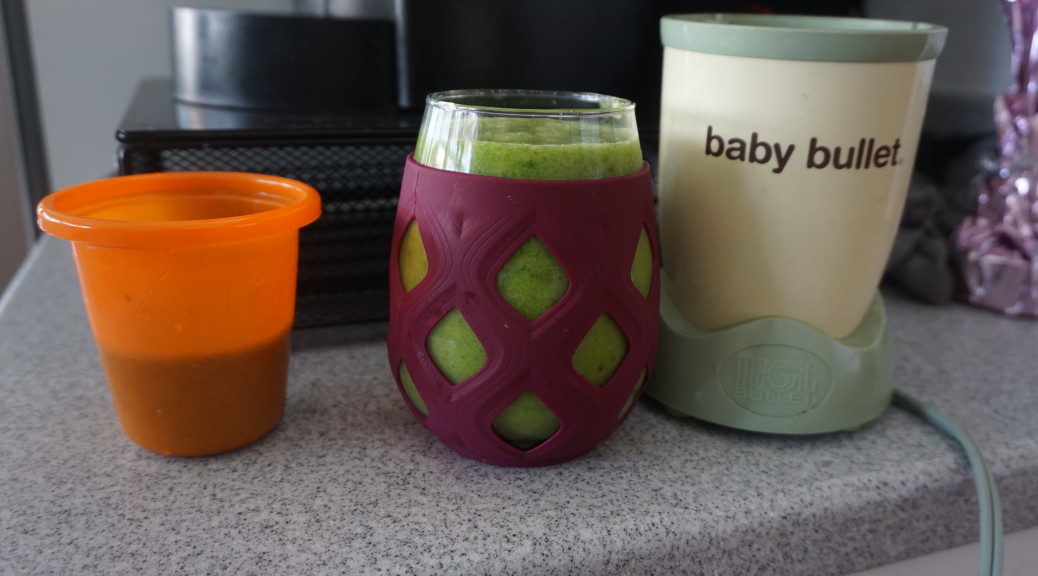 Smoothies! Recipes and Ideas ?>
Smoothies! Recipes and Ideas
 Here in southern California, we are having a lovely 90+ degree sneak peek of summer. It's gonna be HOT this year. Here are a few tips for busy Moms and Dads that save both time and money in making delicious smoothies as snacks or on-the-go meal replacement.
I like to freeze fruit that we haven't gotten to at the end of the week before I go buy more. Just wash, chop, peel, and divide it into snack size baggies for the freezer. No more throwing out fruit accidentally left too long, and also you won't need to add much/or any ice.

Same for enormous Costco size bags of spinach or kale. To avoid wasting any by letting it go bad, separate and freeze single servings.  

If you have a food processor, a bullet (or baby bullet), ninja, or any high powered blender, grate oatmeal beforehand and store it in a container or jar. This gives your drink a smooth texture and saves time so you can just add a scoop or 2 to your smoothie.

Add spinach or other greens to your kids favorite fruits, great way to get some veggies into them if they are going through a health strike.

To make healthy popsicles for your kids, ahem… or your husband… freeze fruit/veggie smoothies in small paper dixie cups, add a popsicle stick or plastic spoon in about a half hour into freezing, then tear the cup off when they're fully frozen.

Add Flaxseed, Chia and/or Protein powder to beef up your smoothie if you want to use it as a meal replacement and feel fuller a little longer.

For those with a sweet tooth (ME!) you can add honey instead of sugar. Tastes great and if you use local honey from your area, it might help lower the severity of seasonal allergies over time.

Rinse!!! For the love of all that is right in the world, rinse out your cup/blender the moment you're done using it. It takes a few extra seconds while doing it, but it will save you soooo much time to avoid having to scrape crusty kale off a cup you used a few hours before.

Peanut butter is a great addition. It's a healthy fat, fills you up, is yummy. But (and I just learned this from someone at work) it does not go with everything. Specifically pineapple. Keep your recipes simple and cohesive. Ex: peanut butter with chocolate powder, bananas and milk. OR Pineapple with mango, orange, spinach and a splash of juice. Remember, just because two things taste good, does not mean they will taste good together. Let's get creative but not crazy.

For you fellow nursing/pumping moms, Pinterest has some amazing and easy recipes for lactation enhancing smoothies. One of my favorites has oatmeal, cinnamon, banana and a few yummy things that help boost or maintain milk supply.
Enjoy your delicious summer drinks

yes I also mean margaritas, future post possibly but I make a mean strawberry one. Today I split a yummy smoothie with my daughter: Pineapple, Mango, Kale and Spinach. Plus mine got an extra spin with some chia and flax seed.